About Mat-Cha-Doh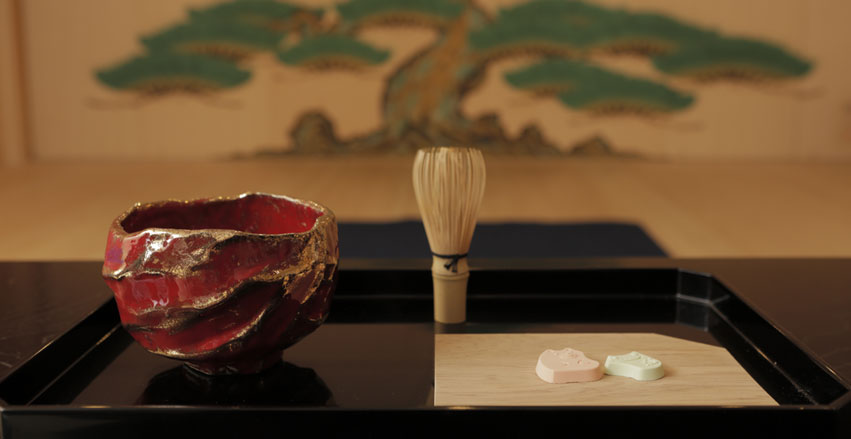 We at Mat-Cha-Doh provide Japanese cultural experiences in Tokyo centered around Cha-do, the way of tea, said to be the epitome of Japanese culture.
We focus on Matcha (ground green tea), the main item of Cha-do, and its amazing powers. We offer information on a Matcha-energized healthy life through our blogs, online shop, Facebook, Instagram, and Twitter.
抹茶道は、国内外の方たちに本当の日本の良さを知っていただくために、「茶道」を中心に置いた体験や研修の企画・提供を行っています。
茶道を通して、愉しく、洗練された「美意識」「おもてなしの心」に触れることができる時間⁠をお届けしています。日々の生活に活かされることはもちろん、ビジネスにも活きる魅力やメリットが多くあります。
なぜ「茶道」なのか?
「茶道」は、日本文化の集大成とも言われ、日本が「美」と「礼」を積み重ねながら、古来より大切にしてきた生き方、考え方が詰まっています。茶室に身を置くと、自然と五感が活性化され、これらを感じることができます。自分と向き合う、また社会とのつながりを考える貴重な時間となります。
個人のお客様
「茶事・茶道」「和菓子作り」「書道」などの体験プランをご提供しています。全施設、完全プライベートな環境ですので、安心してご利用いただけます。英語・中国語・日本語からお選びいただけます。
企業のお客様
「出張お茶会」「人材育成研修」「社内交流イベント」など、ご要望に合わせて、様々な企画をご提供しています。研修は、オンラインでも実施しています。顧客サービスの一環として、社内に向けた研修・イベントとしてご活用いただいております。
また、茶道のメインアイテムである抹茶が持つ驚異的なパワーにも注目し、抹茶と共に、健康、且つ、快活な毎日を送るための提案や抹茶の販売も行っております。
株式会社 抹茶道 / Mat-Cha-Doh
6-29-6-202 Shimouma, Setagaya, Tokyo, Japan, 154-0002
Representative: Kyoju Koh
Mail: info@mat-cha-doh.com
「RainbowEvents レインボーイベンツ 」について
株式会社 抹茶道は、LGBTQ+エンパワーメント、そして、SOGIに起因する差別や偏見の減少を目的として、LGBTQ+フレンドリーなイベントのプロデュース事業も展開しています。
Privacy Policy
Details regarding our Privacy Policy are below.
Protection of Personal Information
Mat-Cha-Doh("Our Company", hereafter)sets the rule and takes necessary measures in protecting our customers' personal information ("personal information" hereafter) when providing a safe, secure and responsible services to our customers.
Our company employs SSL (Secure Socket Layer) technology to ensure the security of the customer information. In order to prevent problems such as identity theft, tampering of information, and information disclosure, encrypted pages and SSL authentication are installed.
Personal Information Protection Policy
Our company takes the appropriate security measures to manage and protect all your personal data on our website by ensuring the privacy laws of Japan such as the Act on Protection of Personal Information (APPI) and other related online privacy acts. We are committed to improve the necessary and appropriate safety control measures to avoid illegal access, loss, damage, falsifying or breach of information.
About Managing Personal Information
1. Limiting the Use of Personal Information
The personal information which you provide to our online shop such as your name, address and phone number will be used for the purposes of providing various services to you in carrying out purchase transactions, verifying your ID and offering information regarding events and promotional campaigns.
2. Disclosure of Personal Information
We will respond to the request to disclose your personal information promptly only when given personal consent to such disclosure or for the purpose of correcting the information upon verifying your identity.
3. Use of Personal Information
We will obtain your personal information for the sole purpose of providing appropriate services to customers.
4. Disclosure to Third Party
Our company will only use your personal information for acquisition purposes. We will manage it appropriately without disclosing or providing its content to any third party without the consent of that individual, except in the below cases:
One, your personal information is demanded by legal authorities such as police or administrative/public organizations, or,
Two, the use of the information is crucial for the protection of your life or assets.
5. Inquiry regarding Personal Information
If you have any questions on our company's Use of Personal Information, please contact us below.
> Inquiry
Regarding Cookies
Cookies are small files that our website sends to your browser and hard drive and can be utilized to provide additional services while you browse our website. We may use cookies for a smooth and uninterrupted usage of our website.